Wharton Law, LLC
Fast, Affordable & Convenient Kansas Divorces
Quick Kansas Divorce Attorney Randall J. Wharton, Esq.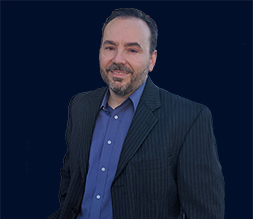 What Makes Me Unique?
I only do uncontested divorces. Because of this, we'll move faster and cheaper than you might expect.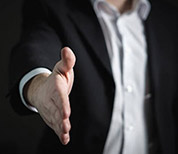 Fast & Easy, Guaranteed
Describe your situation to me. I will quote you a price. If you find another Kansas attorney who represents you in your divorce for less than what I quote you, I will pay you $100.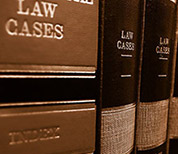 Frequently Asked Questions
If you have any questions or concerns regarding your divorce, scroll down below to see some frequently asked questions, or just give me a call!
We Move Fast On Your Uncontested Kansas Divorce, Guaranteed
Let me help you move forward with your divorce
Getting a divorce should not drag on forever and cost you thousands of dollars. My name is Randall Wharton, and I specialize in fast, convenient and affordable uncontested Kansas divorces. Contact me for a quote. You will be amazed at how easy and affordable the process can be. In fact, my lowest-fee guarantee shows how confident I am that you won't find a lower price anywhere.
That's right: I guarantee the lowest attorney's fee, or I pay you $100 cash for your time and trouble. Let me help you move on with your life, and let me help you save money while you do it.
The Process
I've streamlined the process to minimize your time and hassle. Depending on your case, you might be able to get a divorce with as little as 30 minutes of your time. You won't have to appear in front of a judge or answer any uncomfortable questions. It doesn't get any easier.
1. Complete The Questionnaire
This process usually takes between 5 and 10 minutes and gives me all the information I need to prepare the papers.
2. I'll Complete Your Required Paperwork
Once I receive your information I will go ahead and complete all the necessary paperwork on your behalf.
3. Sign The Paperwork And Return To Me
Once you receive the completed paperwork, you'll need to take it to a notary, sign everything and return it back to me.
4. Wait For Your Divorce Decree!
Once you return the signed and notarized paperwork, I will file your divorce. In as little as 5 days, you'll receive your divorce decree.
Pricing
Pricing depends on many factors, such as whether children are involved, how quickly you need it finished, and so on. I cannot provide a quote without hearing the specifics of your case, but I will say this: I have never had to pay out my lowest-fee guarantee, and it is my firm belief that you won't find a better price anywhere.
Ready To Get Started?
Call my law office at 785-268-8809, or use the button below to contact me today.
Divorces are not easy, but as a Kansas divorce lawyer, I can help you get through this. Call today for a free consultation.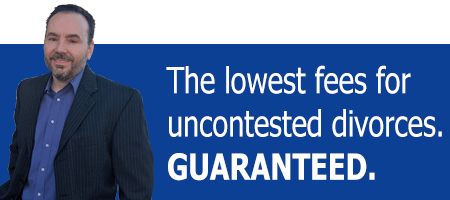 I have been practicing law in Kansas since 2007. I've learned that by agreeing to certain matters up front, it's possible to greatly reduce the cost of getting a divorce. Because of this, I can charge far less than what you might expect to pay a divorce attorney. In fact, I offer a lowest-fee guarantee.
Frequently Asked Questions
There are a number of questions that I see frequently, so I will address them here. If you have a question that is not answered here, please contact me.
I just received my quote for my divorce. Are you a real lawyer? How can a real lawyer have such a low fee?
Yes, I am a real lawyer. Ask me, and I'm happy to give you instructions for verifying my status. I am able to charge such a low fee because the only divorces I do are uncontested divorces. By accepting only uncontested divorce cases I have been able to streamline the process so that I do not need to charge the high fees that many other attorneys do.
Judges make me nervous. Do I have to go to court?
No! One advantage of using me for your uncontested divorce is you don't have to go to court, talk to a judge, or attend any hearings. Just sit back and let me handle it.
I'm hesitant to hire a lawyer from the Internet. Can we meet in person?
Absolutely! If you are willing to drive to Topeka I will be happy to meet with you. However, the vast majority of my clients choose to take advantage of technology and communicate via email and telephone. This saves you time and money, and affords you the convenience of being able to reach me outside of traditional office hours.
It is always good to be sure that someone is who he claims to be, especially if you have not met that person face-to-face. Fortunately, the Kansas court system has made it possible for you to verify the status of anyone claiming to be an attorney. You may rest assured that I am every bit as "real" as any lawyer who may have an office in your city. If you need more reassurance, your quote will contain instructions for verifying my status.
I (or my spouse) live in another state. Can you still help me?
Probably. So long as one of the parties lives in Kansas, I can usually handle the divorce for you.
I have agreed with my spouse about most of the details of our divorce, but there are just a few things we can't agree on. Can you still help?
I only do uncontested divorces, which means everything is agreed upon by the parties. This is how I can do them for such a low price, by avoiding the costly court battles that can come with divorces where the parties do not agree. I would suggest talking with your spouse and seeing if you can't come to an agreement, especially considering how much money you will save by doing so. If you cannot reach an agreement, I may still be able to help you on a limited basis, but I will not enter my appearance in your case. Contact me for details.
I hired you to prepare the documents for my divorce but now my spouse won't sign the papers. What can I do?
You can still obtain a divorce, but I will not be involved in the case, as it is no longer uncontested. I can still assist you in a different capacity, but I will not enter an appearance. Contact me for details.
OK, I got my quote, and I want to hire you to prepare my divorce documents. What is the next step?
I will send you a retainer agreement which spells out exactly what services I will provide you. I will also send you a link to a questionnaire I have developed which gives me all the information I need to prepare your documents. Don't worry, the questionnaire should only take you about 10 minutes to complete. After that, just sit back and I will handle everything else.
How long will this take?
That depends on you. If you get me all the information I ask for, and if you promptly sign and return the documents I send you, the entire process can—in certain circumstances—be completed as quickly as 2-3 weeks. Most of the time it takes a bit longer, and I did have one situation where it took nearly 9 months because the client took a very long time getting the documents back to me.
But again, the length of time it will take mostly depends on how quickly you get me everything I need.
ARE YOU READY TO GET STARTED?
Let me help you move forward in a fast and affordable way.

"Randy was helpful and professional throughout the whole experience. He answered all my questions in a timely manner - even on weekends - and never once talked down to me or made me feel dumb for asking something. He made the divorce paperwork easy with step-by-step directions for signing, so we were sure we had everything. Money WELL spent, and would use him again if I had to."
M.L.Y.

"Randy is very affordable and easy to work with. He didn't get irritated with all my stupid and very frequent questions. His rate is exactly as he says it will be. He didn't charge me for emails or texts like most divorce attorneys do....Very easy to work with and easy to talk to. HE EVEN WORKS ON THE WEEKENDS. Anytime any day, you got a question he answers . I would absolutely recommend Randall Wharton!"
S.V.

"Randall was very easy to talk to and kept me informed of everything I needed in my divorce. I would definitely recommend him to any and all who are looking for the best lawyer. Thank you Randy you have helped make me a happy girl."
T.S.

"Randy was very helpful and always responded quickly. Divorce is hard and he made it easier."
M.H.

"Excellent service! Thank Randy for making my divorce so fast and easy. Randy is efficient and reliable. I would highly recommend him to anyone who wants an uncontested divorce."
C.A.

"Randy was amazing. Everything was smooth and fast! He communicated quickly and even through text! Always there when I needed him! Highly recommend."
K.M.
ARE YOU READY TO GET STARTED?
Let me help you move forward in a fast and affordable way.